ESSER Funds
The district received an update on its Elementary and Secondary School Emergency Relief (ESSER) Funds. ESSER is federal funding aimed at helping safely reopen and sustain operations of schools and address the impact of the coronavirus pandemic on students.
Districts across North Carolina have left millions of COVID-19 relief funds on the table by not allocating them, but that's not the case here: Chatham County Schools has clear plans for the funding it's been allocated.
ESSER was released in three waves, with funding for the final wave needing to be allocated by Sept. 30, 2024. Twenty percent of that funding must go toward learning loss, as per guidelines from the federal government and N.C. Dept. of Public Instruction.
Chatham County Schools has a total allotment of more than $21 million. It can use funds to prevent, reduce or respond to COVID-19 in the classroom.
To date CCS has spent $18.4 million of ESSER funds, leaving $3 million remaining to be spent by June 30, 2024.
The money from ESSER has created opportunities for CCS to hire more than 50 new positions. That includes a dropout prevention specialist at each high school, three new social workers and three new English as a Second Language (ESL) professionals. The funding has also helped build out the district's summer learning to recoup learning losses from COVID-19.
The four main themes of spending included human capital, health and safety, extended learning and instructional support, and professional development. While the funding has been useful to the district, officials also said the massive influx of funds has been overwhelming to manage.
"When it rains it pours," said Carol Little, CCS executive director of federal programs. "It's been great, but it's been challenging to manage $21 million in such a short time."
Chief Financial Officer Tony Messer said he anticipates the remaining $3 million in ESSER funds will be spent before 2024 with to the addition of staff bonuses in 2021-2022.
Operations Research and Education Laboratory (OREd)
With growth coming to Chatham County related to Chatham Park, VinFast, Wolfspeed and other industrial plans, consultants believe the district will be over capacity in the near future.
According to OREd, which conducted a land-use study and offered population projections for schools for the next 10 years, they projected Chatham Park alone will account for more than 4,500 students in the district over the next decade. This means that schools in the eastern portion of the county will be over capacity if it maintains the current state.
The district has, however, said it plans to build at least one school in Chatham Park's Northern Village with another likely in the Southern Village as the development progresses.
Question marks also remain about just how much student population growth will be seen in Siler City and surrounding areas once Wolfspeed is fully operational, which is predicted to be around 2026.
The population projections for each school over the next decade are shown in the chart below, with red indicating over-capacity and orange indicating at-capacity.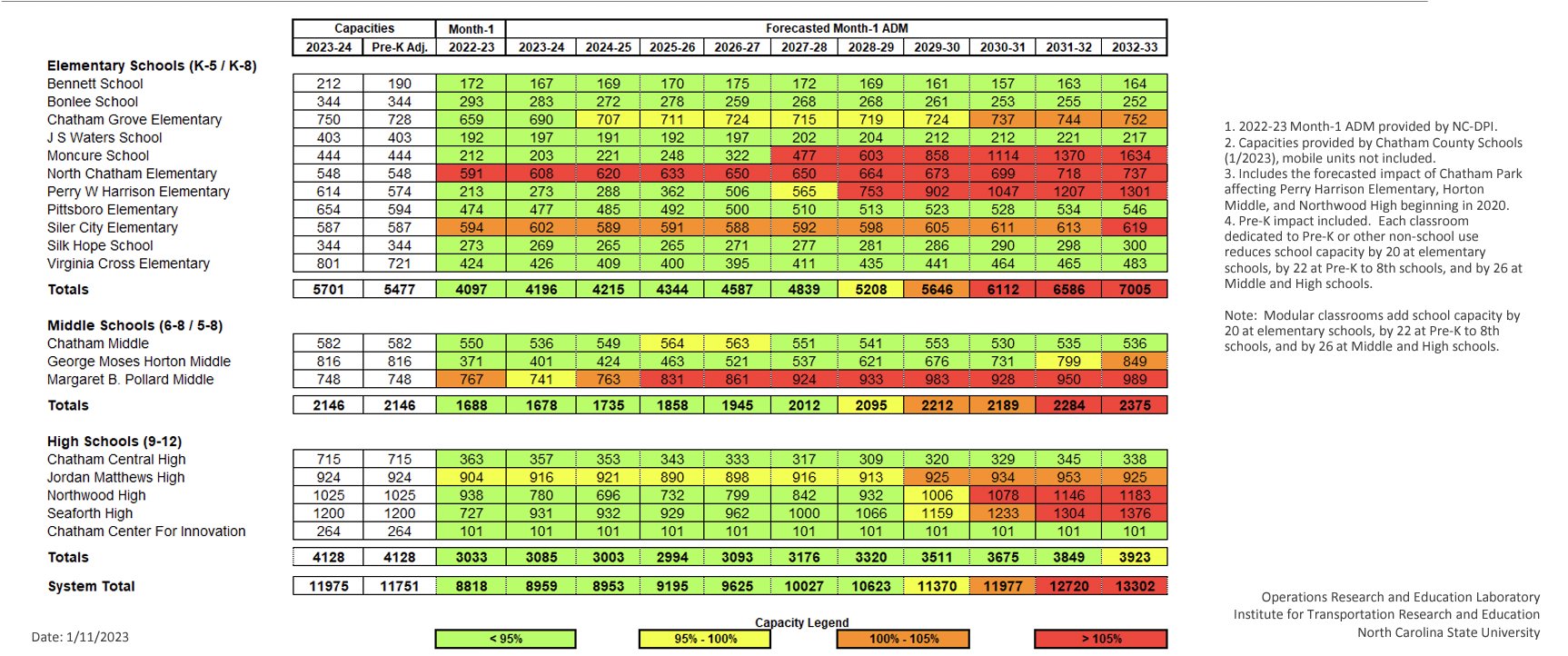 Chart courtesy of Operations Research and Education Laboratory, Institute for Transportation Research, and Education North Carolina State University.
Board members said they were surprised at just how much growth was projected, especially in the western portion of the county.
LETRS Training
Carla Murray, executive director for elementary grades, provided an update on LETRS — Language Essentials for Teachers of Reading and Spelling. Through a 160-hour professional development program, educators understand "how" students learn to read and write, recognize the reasons "why" some students struggle, and determine "what" must be taught to increase student success.
CCS provides a bonus of $1,000 to any K-5 teacher to any teacher who receives their Certificate of Completion for LETRS.
According to Murray, teachers and principals appreciate this program because it helps struggling students learn to read.
"This training has been great to help me learn the art of teaching literacy," read one teacher testimony about LETRS shared at the retreat. "I feel that I am learning the science and why behind my students are learning or not learning to read."
Teachers also praised the flexibility and support of the district to engage in LETRS training. CCS allows for virtual training sessions, teacher workdays or ESSER-funded substitutes to attend professional development sessions.
The district plans to renew LETRS for two more years.
New Central Services Building
Chatham County Schools has been in the process of building a new Central Services building, and construction is well underway. Blice shared an update on the construction and moving process at the retreat.
CCS is anticipating beginning the transition to the new building during the last week of February. By the end of January, the project is expected to be substantially complete and a Certificate of Occupancy (CO) is expected before the end of February.
The transition to the new building is expected to abide by the following schedule:
Week of February 27: Move Technology, Public Information, and School Nutrition.
Week of March 6: Move Senior Cabinet Members.
Week of March 13: Move ASIS. Will be moving from several different locations.
Week of March 20: Move Human Resources, Reception, Superintendent & Board of Education.
Week of March 27: Move Finance (limited window of availability due to payroll constraints).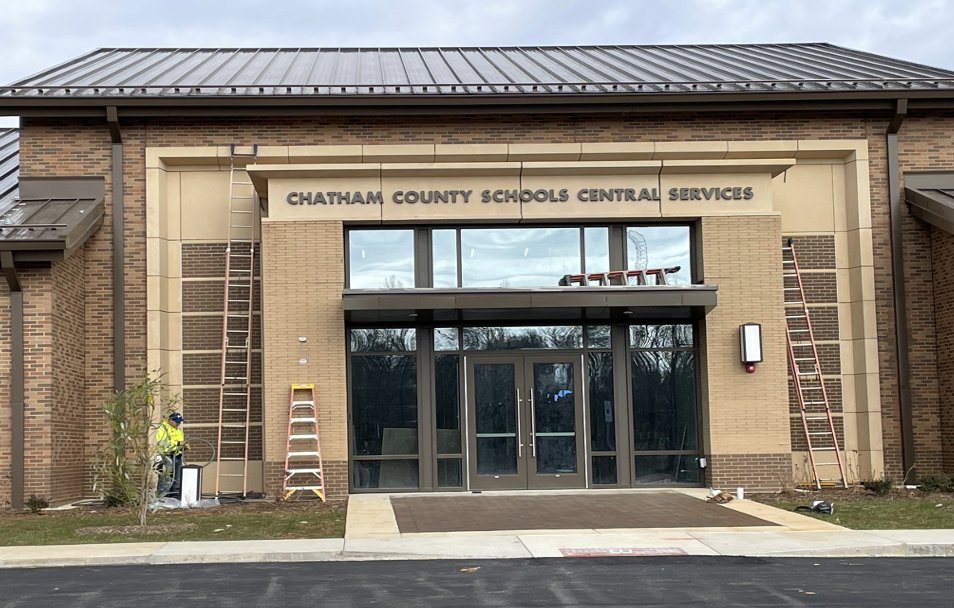 The new main entrance for the Chatham County Schools Central Services building (Photo courtesy of Chatham County Schools.)
Employee affordable housing pilot program
A range of options was reviewed by the district to help more CCS employees live, work and play in Chatham. Kelly Batten, assistant superintendent for human resources, said the program would be used to help entice future teachers to the county.
Affordable housing is defined as 30% area median income. This means that a CCS teacher with a $41,000 average salary would pay a monthly rent of $1,045.
The program the county settled on is a quasi-subleasing program, known as master leasing. In a master leasing model, the employee gains access to affordable housing and the financial benefit of reduced monthly living expenses. The monthly rental subsidy can be provided through community partnerships, school system designated funds, corporate sponsors, competitive grants, in-kind contributions, private donations, etc.
"Having this kind of lease would provide some stability," Batten said. "That's especially important with all the incoming growth we've heard about today."
The concept would apply throughout the county. There are no other counties in the state who have adopted this model, which Batten said means CCS can be a leader in this affordable housing for teachers across N.C.
The model is not finalized, but Jackson said he brought it before the board to see if they were interested in the concept.
"I think this is much needed," said Wilson. "This will definitely incentivize others to stay and come to Chatham. I'm on board."
Wilson said she wanted to ensure community partners would take part in the design, pay structure and modeling of this idea. She proposed the idea of a community think-tank with leaders in local affordable housing to make this concept a reality.
Jackson said they'll investigate the idea further. He said the county needs to do more for housing for teachers because too many people are commuting into the district for work, which he believes is not sustainable as the county grows.
"The more school employees who live in our county, the better," Jackson said.